Products / VERTICAL WASHING MACHINES / VERTICAL OPEN-TOP VOT.SP50
Model: VERTICAL OPEN-TOP VOT.SP50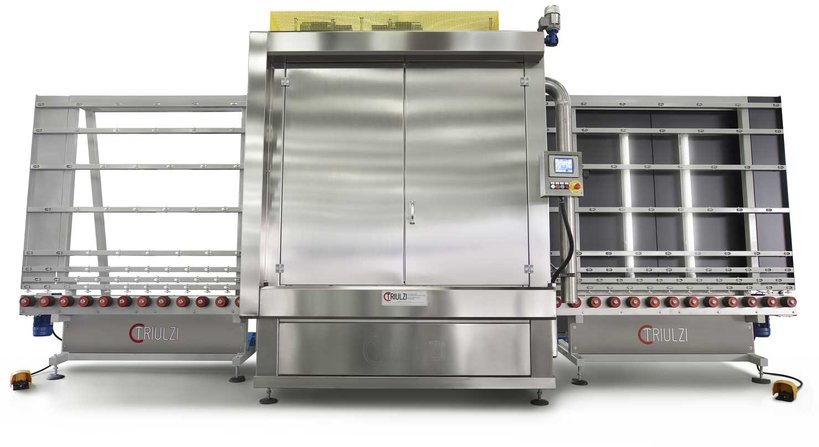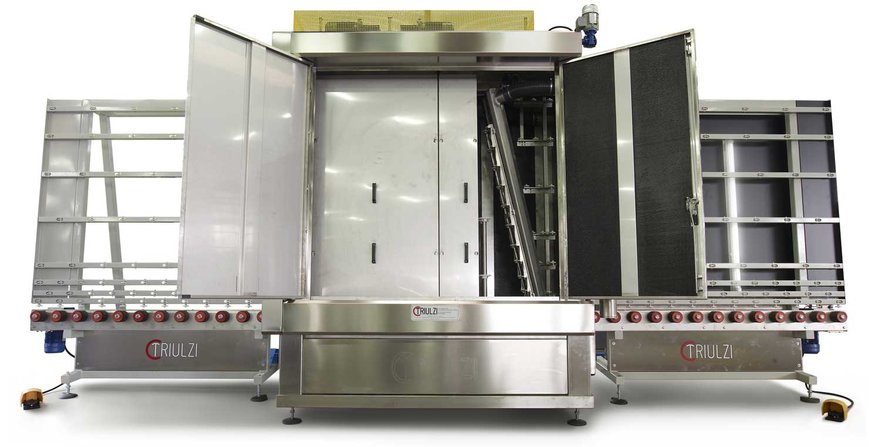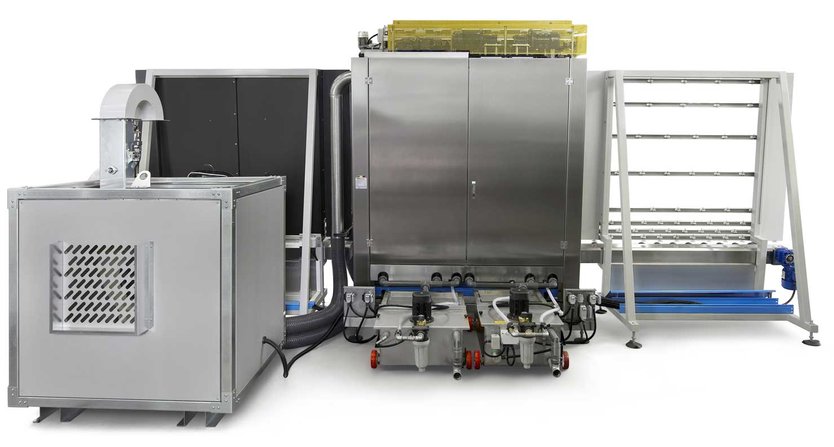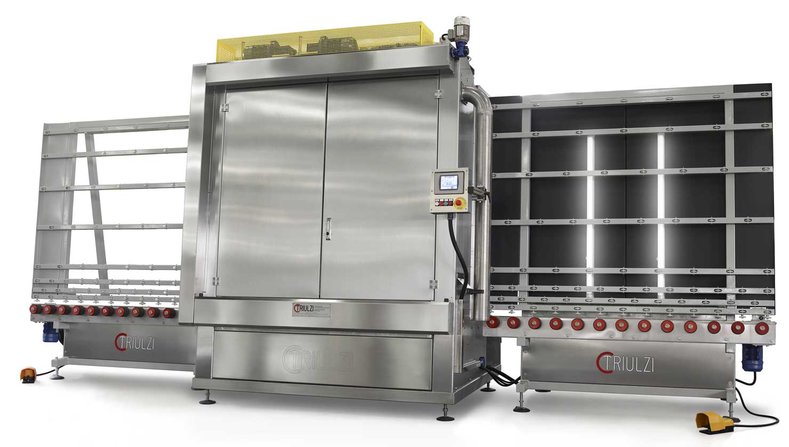 - Discover More →
Equipment
VERTICAL OPEN TOP SP50 VERTICAL WASHING MACHINE - FOR GLASS WITH MAXIMUM THICKNESS 50mm
WASHING MACHINE VERTICAL TUMBLE DRYER OPEN AT TOP
STAINLESS STEEL WASHING AND DRYING UNIT

The VOT.SP50 is a very successful TRIULZI model.
With thousands of units sold worldwide, this OPEN TOP vertical washing machine washes and dries glass sheets up to 50 mm thick. The machine has a sturdy stainless steel structure, including entry and exit wall bars with wheel transport. The machine is equipped with prewash with stainless steel spraying bars and washing with 4 cylindrical brushes ("sector" models that allow easy replacement). In addition, there is a large stainless steel water tank, with its pump and filters. The rinsing takes place with stainless steel spraying bars predisposed to the use of demineralized water.

Drying by inclined stainless steel blowers and powered by a high-pressure fan, enclosed in a case equipped with a filter; sound pressure level within the standards (80db). The maintenance operations are minimized and the electronic speed adjustment is via inverter; finally there is a digital display for reading the altitude.

All open top machines are suitable for working "stand-alone" in small glassworks.
MAIN FRAME IN STAINLESS STEEL INOX 100%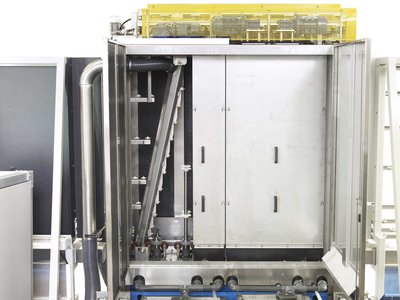 TRIULZI machines differ on the market as they are the only ones to use AISI 304 stainless steel for the ENTIRE structural frame of the machine. True quality and durability over time. Available on request in INOX AISI 316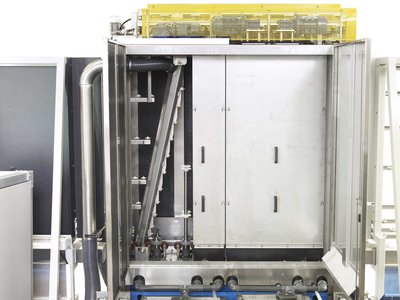 EASY AND INTUITIVE PLC AND HMI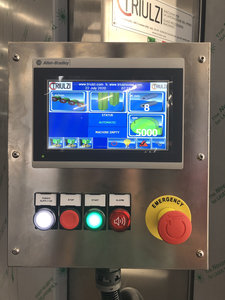 Each Triulzi machine is famous for its ease of use. This peculiarity is given by the HMI and PLC designed to give the operator a user-friendly experience and allow the interface with upstream and downstream machines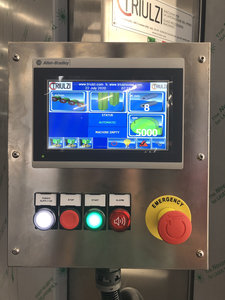 Key Points
Energy Saving System
​​A powerful system that allows to put in "saving mode" the fan (drying section) and washing system. The system automatically restarts when the next glass sheet is detected by sensors on the inlet conveyor.
Technical Specifications
| Property | Value |
| --- | --- |
| Working Height | from 1600 mm up to 2000 mm [=62.99 up to 78.74 in] |
| Glass Thickness | from 2 mm up to 50 mm (with safety device) [=0.079 up to 1.97 in] |
| Minimum Glass | 300x150 mm [= 11.81x 5.91 in] |
| glass thickness detection | automatic detection with sensors - the machine extends itself automatically through specific motorization |
| Overall Dimension | 4920 mm (L) ; 1900 mm (W) ; 3100 mm (H) [= 193.70 x 74.80 x 122.05 in] |
| Installed Power | 16 kW |
| Height working plan | 750 mm (+30-20mm) [= 29.53in (+1.18 - 0.79 in)] |
| Working Speed | from 2 up to 7 m/min |
| Voltage - Frequency - Phases | 380 V - 50 Hz - 3 Ph |
| Auxiliary tension | 24 V |
Related products
Maybe you are also interested