Products / VERTICAL WASHING MACHINES / SPECIAL VERTICAL OPEN TOP FOR CHEMICAL REMOVAL - VOT COATING
Model: SPECIAL VERTICAL OPEN TOP FOR CHEMICAL REMOVAL - VOT COATING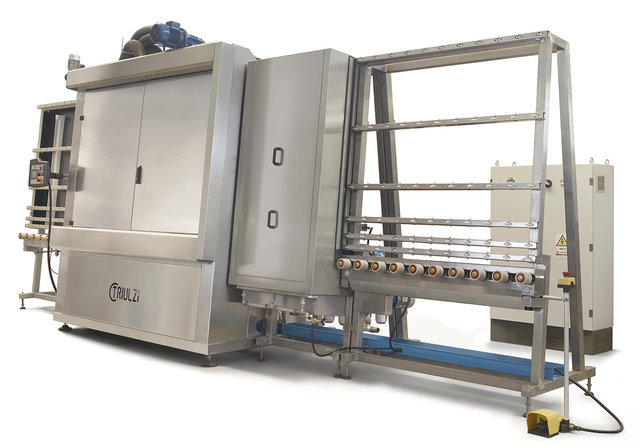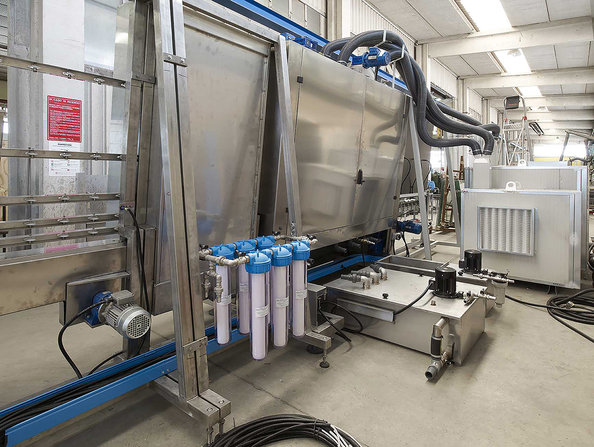 Equipment
OPEN TOP VERTICAL WASHING MACHINE, IDEAL FOR THE PRODUCTION OF SHOWER GLASSES
ShowerGuard Glass
STAINLESS STEEL HIGH QUALITY MACHINE
Model with pre-wash section to remove the coating on the plate.
The machine body is taken from the
OPEN TOP SP.50 model (link)
, which can be customized and configured for specific needs.
All open top machines are suitable for working "stand-alone" in small glassworks.
Key Points
Special section for degreasing solution treatment, useful for the removal of zinc residue on the glass using an acid solution.
Technical Specifications
| Property | Value |
| --- | --- |
| Working Height | 1600 mm [=62.99 in] |
| Overall Dimension | 6100 mm (L) - 1900mm (W) - 2900mm (H) [=240.16 x 74.80 x 114.17 in] |
| Installed Power | 32 kW |
| Minimum Glass | 300 x 150 mm [=11.81 x 5.91 in] |
| Working Height | 850 mm (+30-20mm) [=33.46in (+1.18-0.79 in)] |
| Glass Thickness | 2 - 50 mm [=0.079 - 1.97in] |
| Working speed | 2 m/min |
| Voltage - Frequency - Phases | 380 V - 50 Hz - 3 Ph |
| Auxiliary tension | 24 V |
| Working direction | Left to right ; Right to left |
Related products
Maybe you are also interested