Products / VERTICAL WASHING MACHINES / VERTICAL OPEN-TOP VOT.SP12
Model: VERTICAL OPEN-TOP VOT.SP12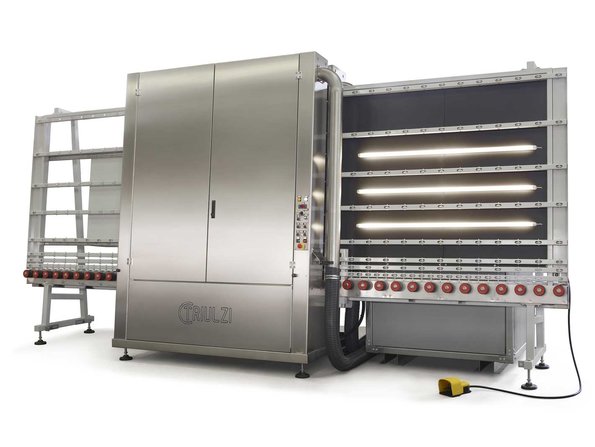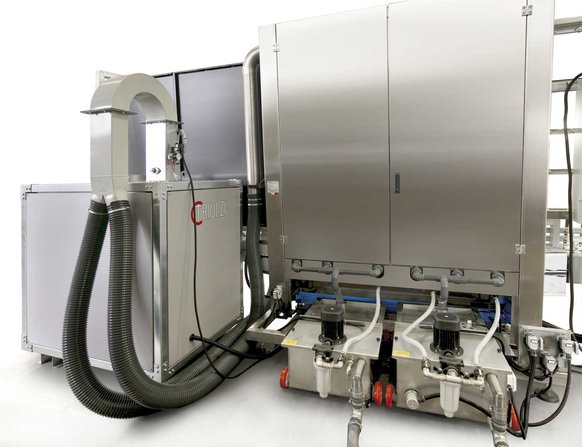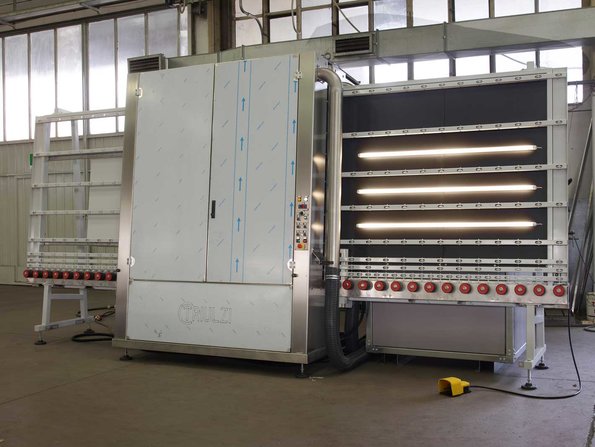 Equipment
OPEN TOP VERTICAL WASHING MACHINE - FOR GLASS UP TO MAXIMUM THICKNESS 12mm
STAINLESS STEEL HIGH QUALITY MACHINE

One of the longest-lived washing machines in the TRIULZI range.
This particular model has been designed to wash and dry glass sheets with a maximum thickness of up to 12 mm.

All open top machines are suitable for working "stand-alone" in small glassworks.
ALL IN ONE SOLUTION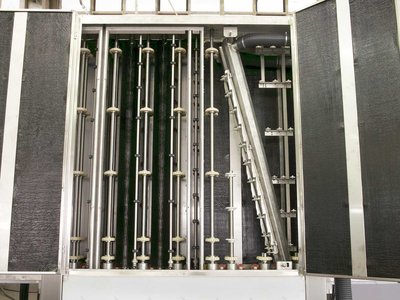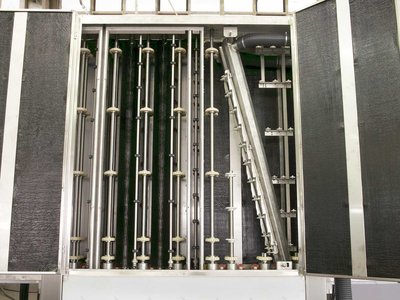 Key Points
GLASS PRESSING AND TOWING SYSTEM
Compared to its big sister OPEN TOP.SP50, which washes and dries glass up to 50mm thick, this model is designed for thinner glass sheets. Thanks to a mechanical pressure system through special tires, the glass moves forward driven by this system.
Technical Specifications
| Property | Value |
| --- | --- |
| Working Height | from 1600 mm up to 2000 mm [=62.99 up to 78.74 in] |
| Glass Thickness | from 2 mm up to 12 mm [= 0.079 up to 0.47 in] |
| Minimum Glass | 300x150 mm [= 11.81x 5.91 in] |
| glass thickness detection | By Mechanical Pressure System |
| Overall Dimension | 4920 mm (L) - 1900 mm (W) - 2900 mm (H) [= 193.70 x 74.80 x 114.17 in] |
| Installed Power | 11 kW |
| Height working plan | 750 mm (+30-20mm) [= 29.53in (+1.18 - 0.79 in)] |
| Working speed | from 2 up to 7 m/min |
| Voltage - Frequency - Phases | 380 V - 50 Hz - 3 Ph |
| Auxiliary tension | 24 V |
Related products
Maybe you are also interested