A successful story started 67 years ago, led Triulzi Cesare Special Equipments Srl to reach the top of the world markets with its machines for washing and drying glass. The latest creation is SURF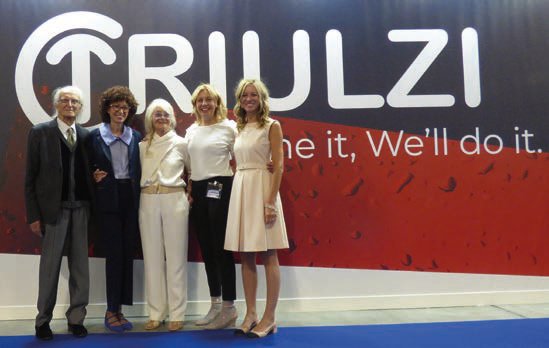 Cesare Triulzi began his adventure in 1952, always following his creature, which stands out as a family business, although in these decades of continuous growth, the company has come to bring together a staff of over 40 highly qualified people, the protagonists of the company in this 21st century, as well as a considerable involvement at the level of induced. A large family that participated in Vitrum illustrating the latest solutions. Studies, research, investments and new solutions have found a practical demonstration of the achievements at the fair. The protagonist is the SURF line, the latest jewel of the Triulzi family: a washing machine for symmetrical/asymmetrical curved glass. Surf is set to revolutionize the curved glass washing industry. It allows to perfectly clean and dry all the faces of the plate thanks to automatically adjustable brushes and blowers, depending on the thickness of the glass. A touch screen panel ensures advanced management with CAD CAM that reads the profile of the plate to select the washing cycles, manage the transport, the positioning of the plate and brushes, the water quality and the values of conductivity and temperature. "This plant that we wanted to preview at Vitrum, attracted the attention of many visitors.

As with all our machines, we guarantee monitoring, through teleservice and 24h service" says Roberta Triulzi CEO and commercial manager of the company. "We have already installed a Surf system at an important Italian company that deals with the production of glass for industrial refrigeration. Our R&D department supported the company to understand what were the main needs and to design a plant that guaranteed the same optimal results of our flat glass washing systems. We have overcome this challenge and now we are already at work to face the new demands" concludes Roberta Triulzi. The glass processed through the Triulzi plants passes every inspection without any imperfection and residue, and is ready for further processing. A level of excellence that combines increasing process speed levels in the face of an important capacity to contain consumption and has allowed Triulzi to enter the top list of industries in Brianza. "Our traditional vertical and horizontal washing/drying machines continue to be very successful. Machines that have built the reputation of this company and that are constantly customized according to the needs of customers".